After boarding up the house and packing up all the kennel fencing and cages and our 30 Shih Tzu (and 2 parakeets), we left Corpus Christi at 2:30 in the morning on Thursday, September 22nd, and drove for 10-1/2 hours to DeLeon, Texas, where we arrived exhausted at the home of Pam's mother.  Before we could sleep, we had to set up all the fencing and cages, then feed, water and exercise the dogs and put them into cages in the dining room on a large tarp to protect the carpet.  That same day the mandatory evacuation of Corpus Christi was called off, but we stayed in DeLeon for a week to recover our own strength for packing everything back up for the return trip.   We got back home on Thursday, September 29th at 1:00 am.  A category 5 hurricane direct hit could hardly have been more stressful for us and our Shih Tzu (I hope I am kidding, but just not real certain about that).
We had to carry each dog outside 3 to 4 times a day to fenced areas we set up on the front driveway.  Our home in DeLeon was right across the street from the front of the Elementary School.   The morning "outside time" coincided with the arrival of parents dropping off their children at school, so we were quite an attraction in town.  The local newspaper heard about us, and the owner/publisher, Jerry Morgan, came over to take pictures and get information for his paper.  The weekly paper came out the morning of the day we packed up and left.
We arrived in DeLeon with 30 Shih Tzu, and came back home with 34 Shih Tzu.  Stormy had her litter of 2 boys and 2 girls on Monday while we were all evacuees.
In spite of it all, we still found time to relax and watch news of the hurricane that hit Beaumont (not Corpus Christi).
<![if !vml]>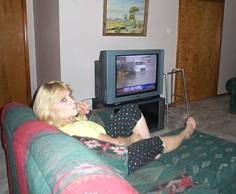 <![endif]>

<![if !supportMisalignedColumns]>